Posted on July 25, 2012 by Lisa
I'm about to give in.
For the longest time I fought the urge to purchase an eBook reader.  But it seems that the eReader is here to stay.  I remember when the first eReader came on the market.  My first thought was of Star Trek.  I remember Captain Jean Luc Picard reading a book from a tablet.  And Wesley Crusher doing the same.  This seemed very futuristic.  But watching reruns of these shows today, it has somehow become completely normal.  Interesting isn't it, how life imitates art.  (And how many things Star Trek had the vision for.)  I wonder when they're going to invent replicators…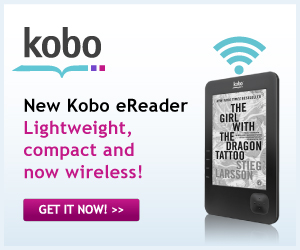 But I digress.  There are eReaders which are dedicated devices with "book reading" being their sole purpose, like the kindle or the kobo.  There are tablets that are able to function as eReaders, like the Sony tablet or the iPad.  The price point on each of these is different, and it will depend on your intended use:
 do you want a tablet (which will be backlit, but also will have apps and web browsing;)
 or do you want a basic eReader (which will not have a backlit screen, and will also not have other functionality.)
It's up to you really.  If you don't need a computer/internet experience, I think the best route for book portability is the kobo. And it's now wireless so you don't need to connect to a computer to manage your library or purchase new books.  And as an extra bonus, the kobo also enables you to download digital books from your libraries digital library.  And you can snag one of these puppies for under $100!
No related posts.